Kaylee Bowser
Registered Dental Hygienist
Kaylee is one of our fantastic hygienists! She joined the ZFD team in 2013 after graduating from Allegany College of Maryland with her associate degree in dental hygiene. In addition to her licensure to practice dental hygiene, Kaylee is also licensed to administer local anesthesia which assists in the vision of the practice to provide a pain-free dental experience. ​
Kaylee's patients (and her team!) find her kindness to be very comforting. Her calmness, professionalism, education and her experience allow her to educate her patients on the importance of regular dental visits. Kaylee enjoys seeing her patients on a routine basis which allows her to develop relationships with them. She always looks forward to sharing and exchanging any updates with patients at their visits, including any updates on her adorable daughter and beloved "fur babies!"​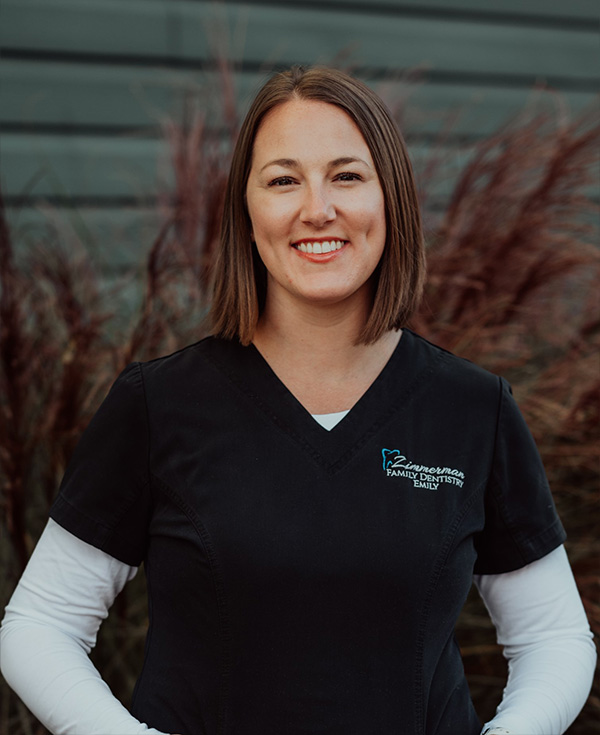 Emily Culbertson
Registered Dental Hygienist
Emily is also one of our amazing hygienists! She began her career with ZFD immediately following graduation from Allegany College of Maryland in 2014 with her associate degree in dental hygiene. As a licensed dental hygienist, Emily also completed the additional requirements necessary to administer local anesthesia for a truly painless dental experience.​
Patients at ZFD get to know Emily as "the hygienist who grew up on the dairy farm!" And indeed, she did! Working with her family on a farm in James Creek, she gained a valuable work ethic that clearly shines through in her dedication to the dental profession and her team, as well as her commitment to her patients.​
Emily holds great value working in a family setting like ZFD where she has an opportunity to not only make a difference in her patients' smiles, but she loves sharing life's special moments with them, especially moments involving her "fur babies!" (If you haven't guessed it, our team loves animals!)​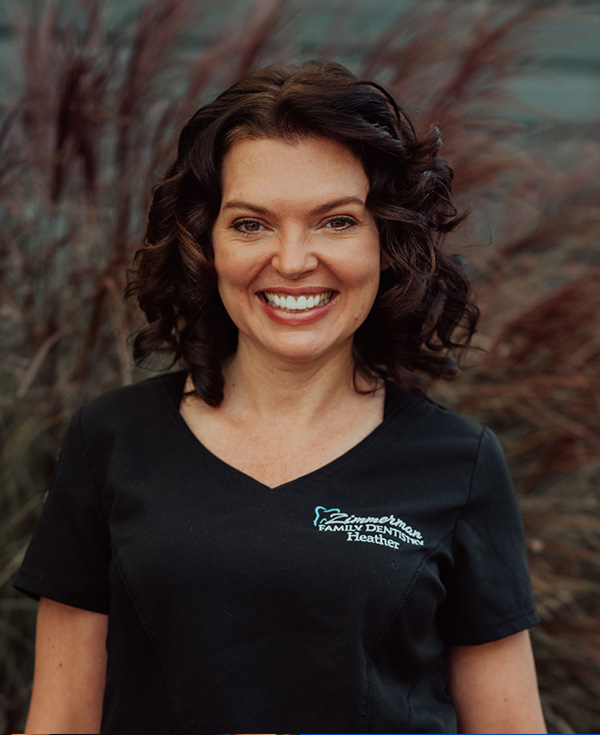 Heather Metzler
Registered Dental Hygienist/New Patient Coordinator
Heather has been practicing dental hygiene for almost 20 years. She earned her degree in dental hygiene from Allegany College of Maryland in 1999 and continued her education with a bachelor's degree from Penn State in 2001. The ZFD team was excited to welcome Heather in May 2017 to serve as the New Patient Coordinator and dental hygienist. Her transition was seamless as she immediately connected to Dr. Zimmerman's constant focus on the comfort of his patients and his commitment to using only the highest quality of dental materials. New patients will more than likely see Heather on their first visit to the office. ​​
Heather is extremely passionate about life and dentistry! Her wonderful smile and constant positivity are contagious to patients and team members who feel "like family" to her. Creating a trusting relationship with patients is one of Heather's main goals as a clinician. Through this relationship, she loves being able to assist in giving people the confidence of a healthy smile and achieve their smile dreams! ​
Heather is proud to serve the Cove community in which she has lived her entire life. In 2001, she married her "true love," Andy Metzler and together they have two beautiful daughters, Shelby and Sydney. Heather and her family enjoy traveling, attending church at Memorial Church of the Brethren in Martinsburg, and cheering on the Pittsburgh Penguins. In her spare time, she enjoys planning her family's next adventure, reading on her porch, watching movies, and making digital photo albums.​
Miranda Pepple
Certified Dental Assistant/Scheduling Coordinator
Miranda's voice is the first voice that will assist you over the phone when you call ZFD! After earning her certificate in dental assisting from YTI in 2012, she gained valuable experience working in the clinical setting as a certified dental assistant. In August 2016, she transitioned from chairside assisting to ZFD's Scheduling Coordinator. Miranda's passion for providing excellent care to patients and her clinical experience combined with her administrative talent make her a perfect fit for her role on the team. ​
Everyone enjoys Miranda's friendly and outgoing personality. It's actually hard NOT to smile when speaking with Miranda! She will more than likely be the first smiling face you'll see when you step into our office. She loves working in the family environment that ZFD provides to patients and team members and she enjoys getting to know each of our patients. She will always do her best to cater to all of your appointment needs and to put a smile on your face! Miranda loves gushing about her loveable son and yes, you guessed it... her "fur babies!" ​
Taylor Royer
Expanded Functions Dental Assistant
Taylor's lifelong interest and passion for dental health care led to her career choice as an Expanded Functions Dental Assistant (EFDA). She attended Bradford School in Pittsburgh where she obtained her associates degree in 2014 and loves working in the dental profession! ​
Taylor joined the ZFD team in August 2017 as our EFDA. As a newer member to the team, she truly loves and appreciates the consistently tender care we offer to our patients. Taylor believes that changing your smile can transform your life! She finds it very rewarding to assist patients in gaining confidence through a new smile. Her kind personality and helpful work ethic are so appreciated by patients and her team members. In addition to directly assisting Dr. Zimmerman in providing excellent and quality dental care to patients, Taylor's team members appreciate her steady and cheerful assistance to them as well. ​​
Taylor enjoys spending time with her fiancé and their families. "Fur babies?" You bet! Taylor adores her cats Pebbles and Tigger. She also enjoys hunting and watching hockey. Let's go Pens!​
Dena Sigler
RDH/Treatment & Financial Coordinator
Dena has been dedicated to the dental profession for twenty years. After completing her associate degree in dental hygiene from Allegany College of Maryland in 1998 and spending time working in the field, she continued her education graduating from Pennsylvania College of Technology in 2010 with a bachelor's degree in dental hygiene with a health policy and administration concentration. ​
​
Dena's extensive education and awards received allowed her to work in different areas including private practice, correctional facilities and public health settings. She also devoted time teaching as a dental hygiene clinical and lab instructor at Allegany College of Maryland. ​
In September 2016, Dena joined the ZFD team as the Financial & Treatment Coordinator. Her experience in the field and her unwavering commitment to oral health and wellness allows her to be a crucial partner in our patients achieving their treatment. Dena spends most of her time working closely with Dr. Zimmerman to determine the best treatment for our patients. She is equipped to find answers to all questions relating to treatment plans, financial matters, insurance questions, and more. You may also see Dena working as a hygienist from time to time! ​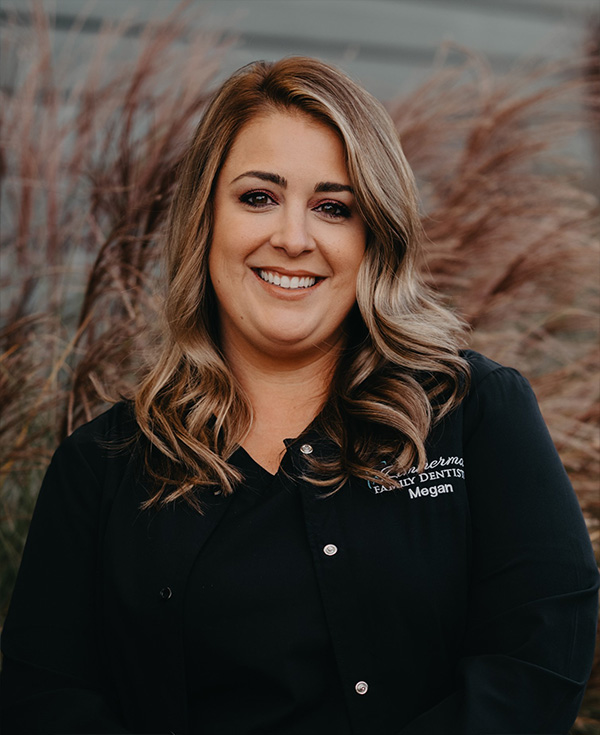 Megan Zimmerman
Office Manager
Megan has been committed to helping her husband, Dr. Zimmerman, create their shared vision of a successful practice since the beginning of ZFD in 2012. Dentistry was far from Megan's sight after earning her master's degree in counseling from West Virginia University in 2010. However, this educational background combined with her involvement in all of the administrative needs of the business side of dentistry and developed interest in the field has allowed her to find her niche in the dental profession. ​
In addition to satisfying the vast array of financial duties and business requirements of the practice, Megan's role is also defined by her steadfast passion to create the ultimate experience for patients and her dedication to a team-driven environment. She is devoted to finding ways to efficiently operate and effectively communicate so that this type of exceptional experience for patients and team members can be achieved.​
Alyssa Weyandt
Floating Dental Assistant
Bio Coming Soon​